Vitafresh®
Luxury Style Shower Head for Chlorine Removal, Reduce Hardness of water, Water Saving and Silky & Massage Shower!
Vitafresh® Shower Head (UMVF-CSHP01)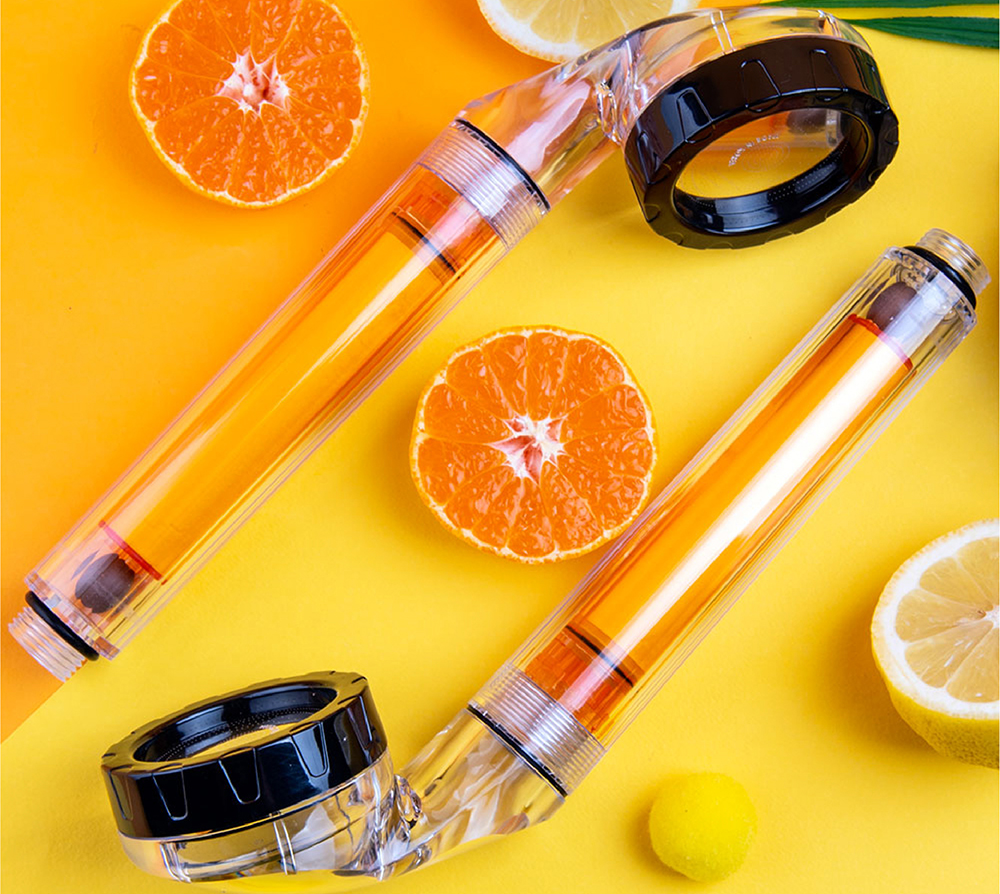 Water treatment facilities add chlorine to the water to kill bacteria naturally found in freshwater sources, but that doesn't mean you should shower in it.
Exposure to chlorine and it's byproducts have been linked to: dry hair, dry skin, skin irritation, birth defects, increased asthma and cancer risk.
Chlorine is universally used to chemically disinfect public water systems because of its toxic effect on harmful germs, bacteria and disease-causing organisms. As defined above, chlorine is a toxic gas. With greater exposure to toxic chlorine contained in water supplies, the potential health dangers we face become more real.
During the bathing & showering process, the some reports claim that as much chlorine enters the body by inhaling steamy chlorinating shower vapors or through the open pores of the skin as that which enters the body by drinking chlorinating water during the entire day.
This increased exposure to the adverse effect of chlorine by household residents can be from 6 to 100 times more than medically recommended.
Chlorine also attacks the skin and skin oils, creating a dermal drying effect. Shower water can also cause or worsen skin irritations and rashes as well as drying. The showering and bathing in chlorinated water will also result in the breakage of hair shafts. Because, chlorine is absorbed into the body through the skin, additionally physical problems can ensure. Inhaling the toxic steam can aggravate the sinuses and lungs.
Also, while your shower water may look clean, it may contain potentially harmful contaminants picked up on its journey through aging pipes and these contaminants may cause skin irritation, itchiness, dry skin and hair damaged.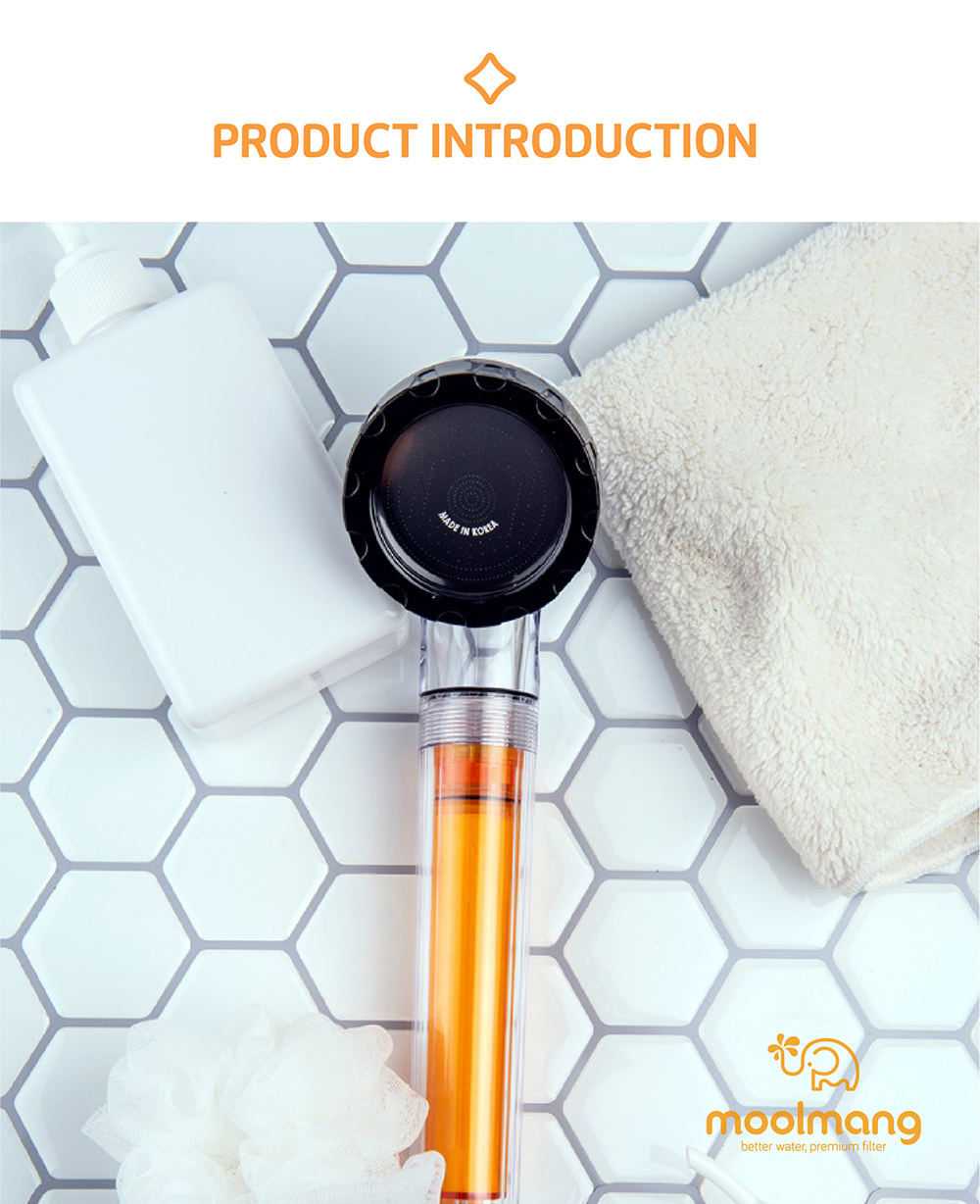 Taking a refreshing shower washes away your daily fatigue. Sometimes, though, your body needs more! Dry hair and itchiness caused by dry skin after a shower due to residual chlorine in your shower water. It is like taking a shower with pool water. While your shower water may look clean, it may contain potentially harmful contaminants picked up on its journey through aging pipes. Moolmang Vitafresh Shower Head enables you to take a refreshing shower for your mind and body without potentially harmful chlorine and contaminants.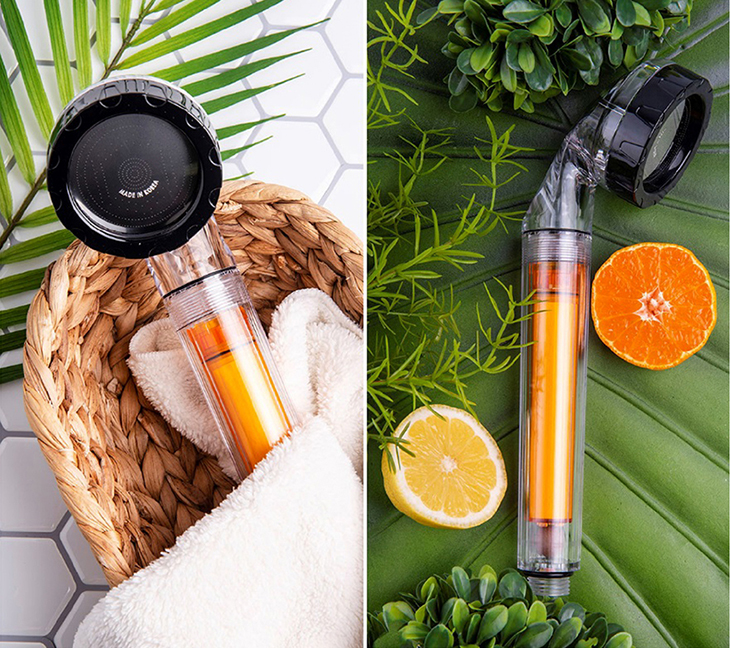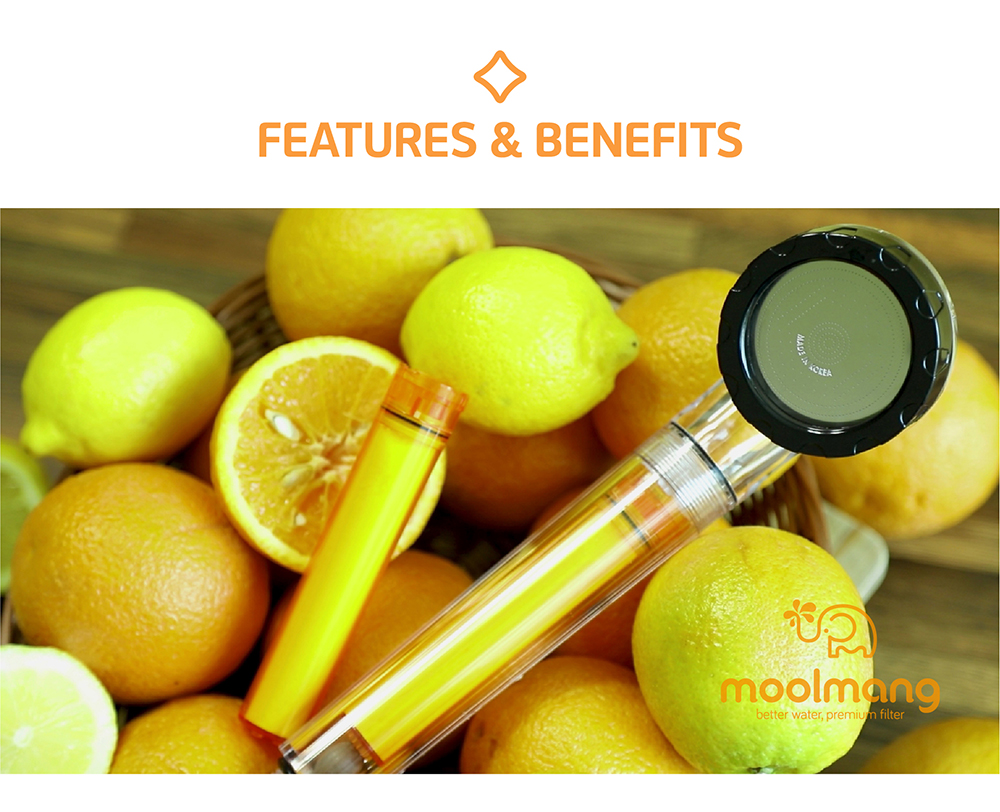 Vitamin C Infused Shower
Vitamin C infused shower water with a Vitamin C equivalent to 600 oranges, keep your glowing skin and gorgeous hair.
Removes Residual Chlorine
Removes 99.9% of residual chlorine in your shower water to keep your healthy skin and hair from your skin exposure to harsh chlorine.
Removes Pollutants
Cotton filter cartridge in the head removes fine pollutants in order to you can enjoy more clean shower.
High Pressured Shower
Specialized shower plate increasing 200% of water pressure in order to you can enjoy refreshing shower and experience spa massaging effect.
Water Saving upto 40%
Specialized shower plate provides water saving upto 40% when compare with general shower head due to flow rate is 6.0 liter per minute, but, general shower head shows over 9~10 liter per minute.
Soft & Silky Shower
Specialized shower plate of tiny hole 0.23 mm provides soft and silky shower spray. You can enjoy soft shower for your skin.
Fresh An Ion Shower
Specialized shower plate makes the shower head to release fresh An-Ions over 400,000 ea. So, you can enjoy fresh water fall shower.
Smaller Water Cluster
Specialized DOLKI ceramic ball makes water cluster smaller by its natural porosity structure and water become softer than normal.
Pack with modern, sleek and durable designed box
Youtube
Specification
Vita-Fresh-Shower-Head Specification
Item
Moolmang Vitafresh Shower Head
Model No.
UMVF-CSHP01
Product Size
74 x 67 x 257 mm
Net Weight
200 g
Rated Flow
1.58 GPM
Operating Pressure
28.4 ~ 113.6 PSI
Operating Temperature
53.6 ~ 140 ºF
Filter Capacity
30 ~ 45 days per 1 filter cartridge for
the 4 family members in average
Material
ABS, PC, Silicon, Vitamin C, Ceramic, etc
Color
Transparent Body
Inlet
½"(G1/2x14, International Standard)
Usage
For shower only