ALL CARE® Shower Head
Premium hybrid carbon filters and composite filters remove residual chlorine, rust, foreign substances, and water odors and enable dream and refreshing showers.
ALL CARE® Shower Head (UMVFP365 M1~M10)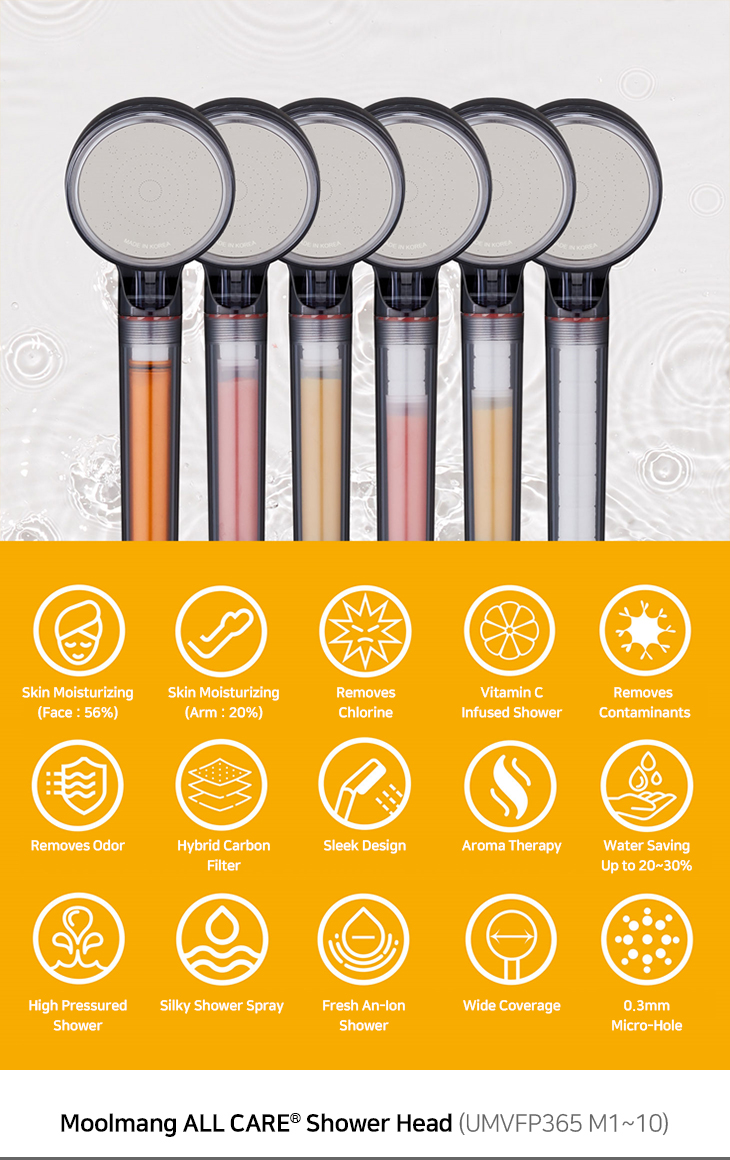 Improve Skin Moisturizing and Aroma Therapy (Rose,Chamomile Scent)
After 2 weeks used, it is helpful to improve the skin moisture, Face: 56%, Arm: 20% and proved by clinical trial. Eevry shower, the fresh rose and chamomile scent from the vitamin filter provides refreshing aroma therapy and helps stabilize the mind and body.
Hybrid Carbon Filter
Removes odor, lime, contaminants and reduces heavy metal and prevent germ growth by combined filter layer with activated carbon fiber, positive charged fabric filter.
Vitamin C Infused Shower & Removes Contaminants
Vitamin C infused shower water with a Vitamin C equivalent to 600 oranges, keep your glowing skin and gorgeous hair. Also, sediment filter of 5 micron removes rust, foreign substance and contaminants so that you can enjoy clean and refreshing shower for your skin and hair.
Water Saving Up to 20~30%
Specialized shower plate provides water saving upto 20~30% when compare with general shower head due to flow rate is 7.0 L/min, but, general shower head shows over 9 ~ 10 L/min.
Removes Residual Chlorine
Removes 99.9 % of residual chlorine in your shower water to keep your healthy skin and hair from your skin exposure to harsh chlorine.
Fresh An-Ion Shower
Specialized shower plate makes the shower head to release fresh An-Ions 315,400 ea. So, you can enjoy fresh waterfall shower.
Soft & Silky Shower
Specialized shower plate of micro-hole 0.3 mm provides soft and silky shower spray. You can enjoy soft shower for your skin.
High Pressured Shower
Specialized shower plate increasing 200% of water pressure so that you can enjoy refreshing shower and experience spa massasing effect.
Wide Coverage
Large size water spray plate cover wide range in order to make your shower more convenient and easy. Also, you can feel like you are under the waterfall.
0.3 mm Micro-Holes
Specialized shower plate has micro-hole 0.3 mm so that you can experience more refreshing shower and feel like you are under the pouring rain.