Vitafresh®
Vitafresh® Shower Filter enriches your refreshing shower without Chlroine & Chloramine!
Vitafresh Advanced Shower Filter
Exposure to chlorine and it's byproducts have been linked to: dry hair, dry skin, skin irritation, birth defects, increased asthmas and cancer risk.
Water treatment facilities add chlorine to the water to kill bacteria naturally found in freshwater sources, but that doesn't mean you should shower in it.
Chlorine is universally used to chemically disinfect public water systems because of its toxic effect on harmful germs, bacteria and disease-causing organisms. As defined above, chlorine is a toxic gas. With greater exposure to toxic chlorine contained in water supplies, the potential health dangers we face become more real.

During the bathing & showering process, the some reports claim that as much chlorine enters the body by inhaling steamy chlorinating shower vapors or through the open pores of the skin as that which enters the body by drinking chlorinating water during the entire day.

This increased exposure to the adverse effect of chlorine by household residents can be from 6 to 100 times more than medically recommended.

Chlorine also attacks the skin and skin oils, creating a dermal drying effect. Shower water can also cause or worsen skin irritations and rashes as well as drying. The showering and bathing in chlorinated water will also result in the breakage of hair shafts. Because, chlorine is absorbed into the body through the skin, additionally physical problems can ensure. Inhaling the toxic steam can aggravate the sinuses and lungs.

Also, while your shower water may look clean, it may contain potentially harmful contaminants picked up on its journey through aging pipes and these contaminants may cause skin irritation, itchiness, dry skin and hair damaged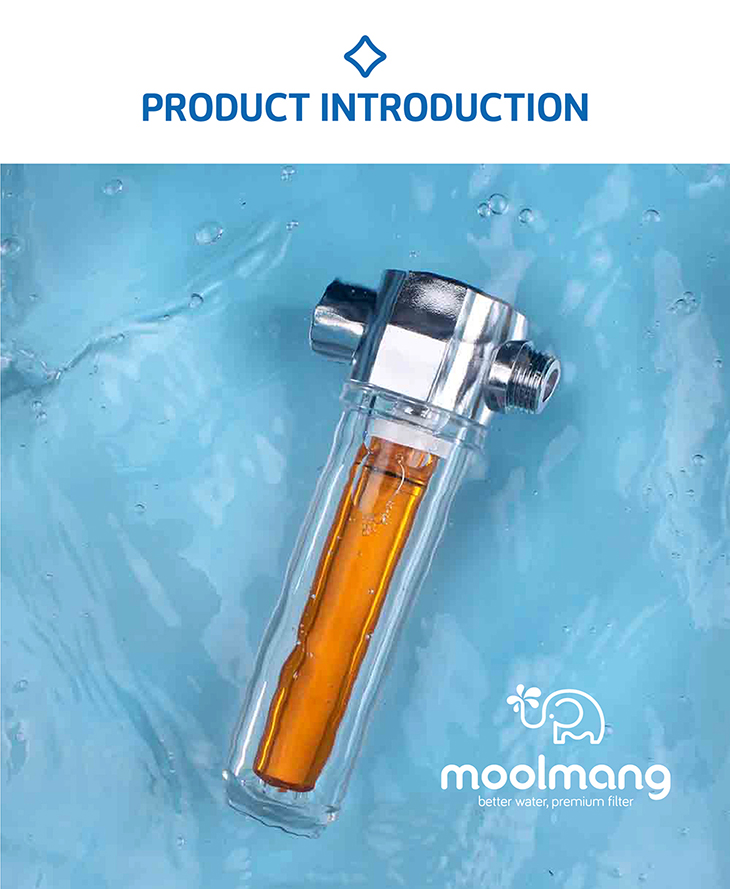 PROVED PERFORMANCE
Dechlorination by Vitamin C has a long history. It is a being used in the water treatment. It fully neutralized both chlorine and chloramines and, also, the safest and least toxic of dechlorination agent. Moreover, according to test result from Korea Testing & Research Institute and Korea Basic Science Institute, it shows over 99% of chlorine removal and released Vitamin C 1.5 mg/ml into the water.
FEEL FRESH
Dry hair, itchiness caused by dry skin after a shower due to the residual chlorine in tap water!

It's like taking a shower with pool water! Moolmang Vitafresh Advanced Shower Filter reduces your skin's exposure to harsh chlorine that cause skin irritation and excessive drying.

Keep your gorgeous skin and hair!

Enjoy Vitamin C infused shower!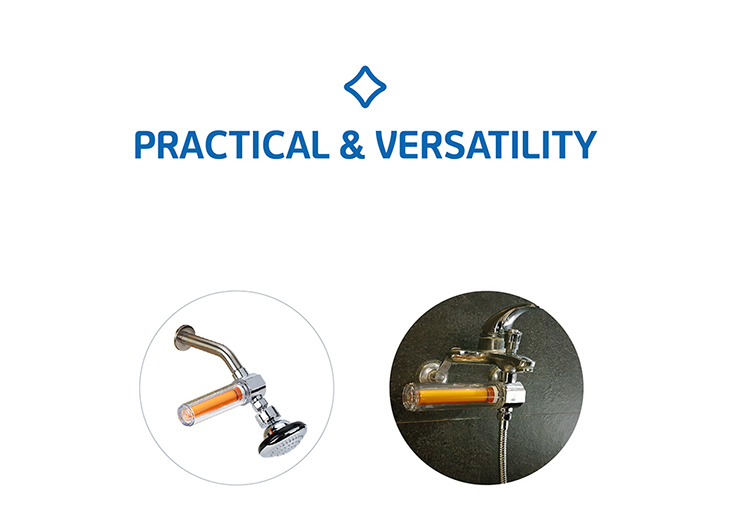 Attach easily to shower pipe(G1/2x14, International Standard)
Pack with modern, sleek and durable designed box
Youtube